ADMIN
will load Waszp box in my truck today
If it's at all windy, maybe we rig the Laser Foil so we can swap in/out of it.
PRACTICE
Warm up with acceleration from slow and stop
FTL stop/starts. Make sure you are close/bow-to-stern
some "normal" practice starts. Evaluate your own strategy and its execution
Box Start Drill. Any team looking to climb in the results needs to put a priority on getting off the line with speed and options. Too often, I see sailors going through the motions of getting off the line with little or no consideration of pre-start homework or line geometry. Teammates tend to get comfortable knowing who they can out boat-handle and often go for the easy start. This brings the competitiveness of the team down and reinforces a lowest hanging fruit mentality that won't work at higher level events. I feel that if you spend any more than 45 seconds luffing during the pre-start you are doing it wrong.  Sailors need to get into the mindset that each start must to be taken as if it is a make or break it first leg and act accordingly.  Boats in the second row or the poachers waiting outside the boat-end of the line must be coached back into the fray.

I will incorporate two extra marks into the starting area to make a box +/- two boat-lengths wide. Sailors must be within the box during the entirety of the last minute of each sequence.
If you need to bail out of the box, you must do so under an I-flag restriction and round the ends before re-entering. Under this modification you will have to fight harder for your hole and it disincentivizes getting to the line late.
After the start you must sail without tacking for 30 seconds to give yourself a a grade/analysis on your start/placement.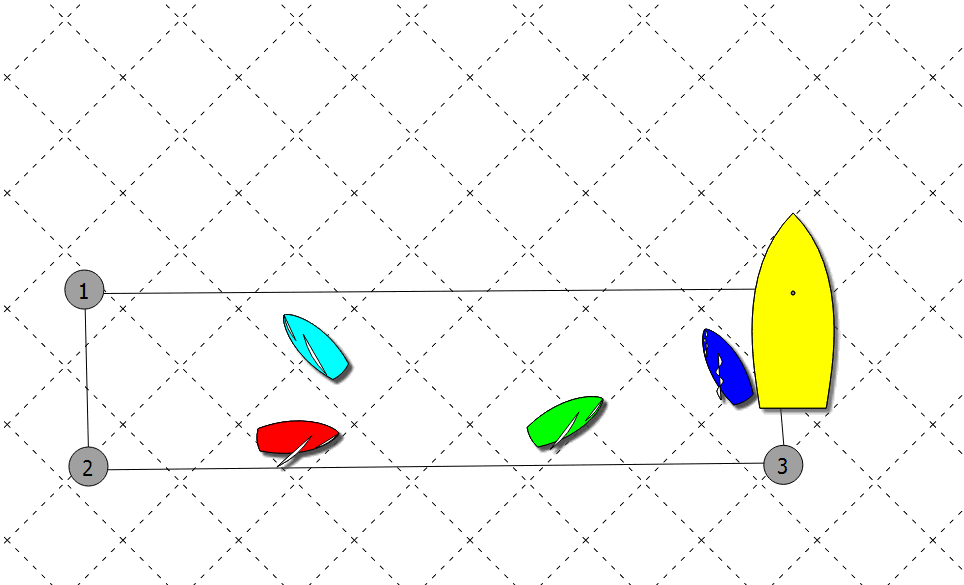 | | | | |
| --- | --- | --- | --- |
| 420 | | | |
| 1 | | | OUT |
| 2 | | | |
| 3 | | | Mackenzie |
| 4 | | | |
| 5 | | | |
| 6 | | | |
| 7 | Sam | Alex | |
| 8 | Chris M. | Reese | |
| 9 | Julia | Lila | |
| 10 | Chase | Emma | |
| 11 | | | Coach Boat |
| 12 | | | Raam |
| | | | Scarlett |
| FJ | | | |
| 1 | Thomas | Helena | |
| 2 | Robby | Lilly | |
| 3 | Kyle | Ella May | |
| 4 | Ava | Jed | |
| 5 | Nate | Kate | |
| 6 | Will | John | |